Inspiration in the Individual and the Individual as Inspiration
A few words of wisdom by John Maxwell to inspire you
LEADERSHIP IS
The willingness to put oneself at risk
The passion to make a difference with others
Being dissatisfied with the current reality
Taking responsibility while others are making excuses
Seeing the possibilities in a situation while others are seeing the limitations
The readiness to stand out in the crowd
An open mind and an open heart
The ability to submerge your ego for the sake of what is best
Evoking in others the capacity to dream
Inspiring others with a vision of what they can contribute
The power of one harnessing the power of many
Your heart speaking to the hearts of others
The integration of heart, head and soul
The capacity to care, and in caring, to liberate the ideas, energy, and capacity of others
The dream made reality
Above all, courageous
How many times do you have to get the children to recite their numbers? How many times do we say, one, two, three, four, five, six, seven, eight, nine, ten? After a while, the learning has taken place. After a while, the excitement diminishes.
Time to move out of the box! (the worksheets have been thrown in the bin!)
What does the number eight look like?
Two fat circles? Yes
A long balloon squeezed in half? Yes
One ball on top of another? Yes
Now to keep your creative thinking working overtime. You have the children thinking. You have their attention (and I am talking about three year olds too). So keep going and it's so easy to let your mind explode with a rainbow of numbers!
What number did we begin with?
What number did we end with?
Two numbers on from two?
The number that is half way?
Now it is time to get your beads, buttons or jelly tots out.
Five in one hand five in the other. How many?
Two jelly tots balancing on my nose.
How quickly can I get them into my mouth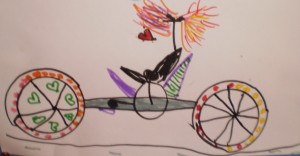 How many green hearts in a spinning wheel?
Can you see any circles? How many? Two? No!! Three? YES
Can you see any other shapes?
But we are on the right track of teaching with an inspired mind.
So turn over your hourglasses and be an inspiration to your learners.
Time to think out of the box.
Caversham Institute encourages creative thinking and we all owe it to each other to share inspire and have others say WOW!