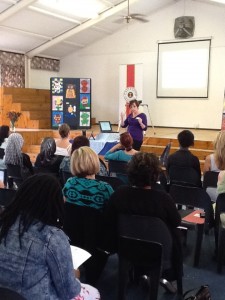 Good news for Early Childhood Development
Caversham Education Institute, in association with the Rotary Club of Port Shepstone, was successfully launched on Saturday 25th October, with 45 persons attending, of all ages and cultures, who were potentially interested in training for the Higher Certificate in Early Childhood Development at NQF Level 5.
The presentation was made by Jill Sachs, the Founder and Director of the Institute, at the Port Shepstone Junior Primary School. The meeting ended with a well-designed and easy to follow video of the training provided by the Institute, after which over 25 persons indicated they were interested in enrolling for the Course starting on Saturday 14th February 2015.
The establishment of Caversham Institute in Port Shepstone was made possible thanks to the generous funding of the Durban Thekwini Educational Trust. Also to be thanked are the Port Shepstone Junior Primary School and its Principal and staff for providing the venue and facilities for the Course.
Exciting news for the Port Shepstone area, where educators and more and more parents are well aware of the crucial importance of developing our children at an early age .What better way to help them get a good start in life?