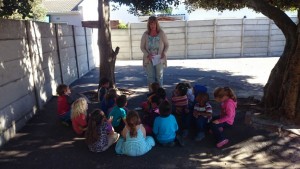 n Mens moet nooit dink jy is te oud of selfs te "dom" om te studeer of iets nuuts aan te pak nie. Nee! Oud of jonk, as jy in n Creche werk of selfs as n assistant en altyd net n "Creche Tannie" was of is, is dit nou tyd dat jy ook by Caversham Education Institute aansluit.
My eerste jaar is pas agter die rug en was waarlik n fantastiese ondervinding. Ek het dames ontmoet, jonk en oud. Ja ek was ook bang en senuweeagtig vir die onbekende. Die inspirasie, die wete dat ek meer kan wees, en die lekker klasgee, was en is 'n ongelooflike ervaring. Ek is nou 'n trotse JUFFROU!
Klasgee is deesdae net 'n plesier, en dit 'n baie bevredigend om te sien hoeveel die kinders leer.
Net soos ons logo, die Uurglas, voel ek soos n koppie wat oorvloei met Liefde en Entoesiasme. Ek sien uit na nog 'n jaar van Beplan-Doen-Hersien.
Dit is my laaste jaar saam met hierdie wonderlike dames. Dan kan ek ook sê ek beskik oor 'n NQF level 5 sertifikaat in VKO.
Van n :
Trotse juffrou en student