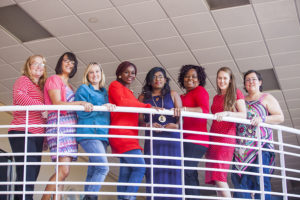 INSTITUTE ACCREDITATION
Caversham Education Institute is a Non-Profit Organisation (171-992 NPO – PBO 930056846) and is fully accredited as a Service Provider with the Education Training and early childhood Development Practices (ETDP) SETA. accreditation number – 5896.
COURSE ACCREDITATION
Caversham offers two fully accredited qualifications
The Higher Certificate: Early Childhood Development – Qualification 23117, 132 credits @ NQF level 5
The National Diploma: Early Childhood Development – Qualification 23118, 245 credits @ NQF Level 5
THE ECD HIGHER CERTIFICATE – SPECIALIZING IN TEACHING & LEARNING BIRTH TO FIVE ( The National Curriculum Framework 0 – 4)
THE SCOPE COURSE
Fundamental Unit Standards:
13925 Present Information in a Public setting – 5 credit
8647 Apply Workplace Communication Skills – 10 credits
Core Unit Standards
US 13853 Mediate Active Learning in ECD – 36 credits
US 13854 Promote Healthy development in ECD – 12 credits
US 13855 Develop and Manage the ECD Learning – 24 credits
Total 87 credits
THE CAVERSHAM TEACHING & LEARNING – BIRTH TO FIVE COURSE (Including the National Curriculum Framework 0 – 4 year)
US 10289 Facilitate a Programme of Learning – 24 credits
US 10295 Promote Lifelong Learning & Development – 8 credits
US 115753 Conduct outcomes based assessment – 15 credits
Total 47 credits
THE CAVERSHAM HIGHER CERTIFICATE IN ECD 134 credits
These Exit Level Outcomes enable the student to:
Explain and apply consistent theories of child development within the national curriculum framework
Demonstrate the ability to implement a comprehensive safety and health policy in a holistic, inclusive and developmental appropriate way in association with families and the wider community
Systematically observe the development of individual children to inform own practice and planning on an individual basis
Establish and maintain efficient management systems that ensure the effective functioning of the ECD site/class
Promote effective communication links between the ECD site, home and wider community
Produce and respond to accessible written and oral communication and foster communication skills to operate more effectively in the workplace/ECD site. It will also contribute to more effective communication within the workplace environment.
Present information in a public setting.