1993, Jill Sachs, a teacher and principal at a local Pre-Primary school had a vision for offering vibrant, inspiring in-service training to teachers working in early childhood. Known as the SCOPE Course, it was offered part-time over two years, and it gained an enviable reputation. With Jill's redeployment to the position of Responsibility Manager for Early Childhood Development at the Department of Education Provincial Head Office in 1996, the course continued to be offered to small numbers of students in Durban and Zululand.
Class of 1994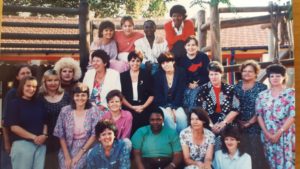 2001, Caversham Education Institute became the youngest official member of the Caversham Centre located in the beautiful midlands of KwaZulu Natal
2006, Jill took early retirement from the Department of Education to focus full-time on the Institute and in November of that year The Institute received full accreditation as a Service Provider with the ETDP SETA.
2008 the course content was restructured, and the National Higher Certificate in ECD was accredited.
2009, A suite of offices was opened in Durban including a Boardroom that also serves as a resource centre providing space for meetings and materials for student support
2010, the Institute underwent its first national verification of students, and 104 students were successfully awarded the Higher Certificate in ECD, 123 credits at National Qualification Level 5.
2011 the Institute obtained a perfect score when re-accredited as a Service Provider with the ETDP SETA and the National Diploma in ECD was likewise fully accredited.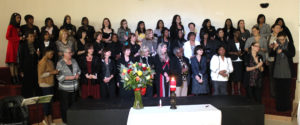 2012 eighty students were awarded National Diploma: ECD and a further forty-nine students obtained the Higher Certificate: ECD
2013 Training offered in 4 Centres, Durban, Pietermaritzburg, Ballito and Kwambonambi in Zululand
2014 Our first Centre in Cape Town was opened
2015 With the support of the Rotary Club and the Durban Thekwini Trust we started training ECD teachers in Port Shepstone
2016 Fully registered as a Non-Profit Organisation (171-992 NPO) with 254 students currently being inspired